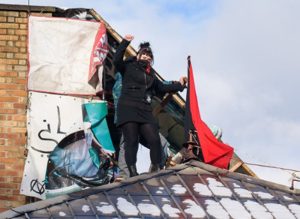 Al een week lang zitten er, ondanks de kou en de sneeuw, nog steeds activisten op het dak van Klinika, het sociale centrum in Praag, om zich te verzetten tegen de ontruiming die op 10 januari begon.
Klinika is een sociaal centrum dat vier jaar geleden gekraakt werd en waar tal van sociale activiteiten werden ontplooid: een cultureel programma, taallessen en andere ondersteuning voor vluchtelingen, community ruimtes. Het sociaal centrum heeft met heftige repressie te maken gehad: zo werd het in 2016 aangevallen door Pegida-nazi's en met molotov coctails bestookt en de politie heeft verschillende keren invallen gedaan na anonieme mailtjes dat er een bom in het gebouw zou zijn geplaatst. De staat probeerde onder de dekmantel van die invallen tot ontruiming over te gaan, maar dat mislukte doordat de krakers zich succesvol verzet hebben.
Een week geleden werd er door de Staat weer een poging tot ontruiming gedaan, maar sindsdien zit er een kleine groep activisten op het dak (onbeschut, in winterse temperaturen) om zich daartegen te verzetten.
"We are calling SŽDC (the state railway company) to stop the absurd violent eviction and to return to discussions with the members of the Klinika collective and leaders of the capital city. There are 7000 empty houses in Prague and we want at least one of them to be non-commercial social and culture center. There are no reasons for leaving the house. In the case of eviction, the building will be empty for months and years and it will dilapidated. There is even a threat of demolition. Moreover, it is winter and there are people in the house who have no place to go, " zegt Jakub Ort van ASC Klinika.
Solidariteitsacties zijn welkom!!
Solidarita s Klinika!
Odolat!
Nieuws over de ontruiming op de Anarchistická Federace pagina: dag 1, dag 2, dag 3, dag 4 en 5, dag 6, dag 7, dag 8.
Klinika
Jeseniova 60
Praag, Tsjechië
klinika [at] 451 [dot] cz
https://squ.at/r/3ll
https://451.cz/klinika/
Klinika evenementen archief: https://radar.squat.net/nl/prague/klinika/archive
Groepen in Tsjechië: https://radar.squat.net/nl/groups/country/CZ
Evenementen in Tsjechië: https://radar.squat.net/nl/events/country/CZ